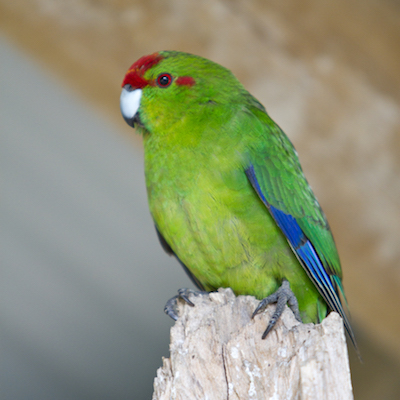 Other name: Red-crowned Parakeet.
Cyanoramphus novaezelandiae.
Found: Only in New Zealand, mainly on islands free from predators, rare on the mainland.
Sub-species are found on islands around New Zealand, such as Norfolk Island and New Caledonia.
Conservation status: At risk.
Threats: Often forage on the ground, and young fledglings are fed on the ground before they can fly, making them highly vulnerable to predators.
How to help Kakariki: Setting traps for pests like mice, rats, possums and stoats and if you own a cat, make sure it is neutered, has a jingly bell on its collar and lock it inside at night. Even if you don't have Kakariki in your area, this will benefit all your local native species.